MSF launch Forced From Home Immersive Exhibition
Visualise helps MSF-USA highlight the plight of the refugee crisis with a 360° VR documentary
Syrian refugee Mashallah with her family at the Domiz camp in Northern Iraq
Following 12 months of production, Forced From Home, the long awaited immersive exhibition from MSF-USA launched at Photoville in Brooklyn, New York over the weekend.
The Visualise team have produced a 360° VR documentary for MSF to tell the individual story of the 65.3 million people forcibly displaced worldwide.  
Visitors to the exhibit will initially enter a 30-foot-diameter Igloo dome to view a projected, immersive 360-degree film, directed by Head of VR, William McMaster.  The immersive dome video will transport them to Greece, Tanzania, Mexico, South Sudan, Iraq, and Lebanon, all countries dealing with migration, displacement, or refugee crisis.
Guided by MSF aid workers, visitors also have the opportunity to hear first-hand accounts from the field and view materials gathered from refugee camps, rescue missions, and emergency medical projects. The exhibition will then lead visitors through six scenarios focusing on the cause of displacement, the journey to safety, the legal status of displaced persons, basic needs and unique medical requirements among people on the move, and issues surrounding shelter and housing.
Highlighting the push factors and realities of life as a refugee, the Visualise team produced a series of 360° video teasers ahead of the exhibition. These were released over a 9 month period on YouTube with each films including the insights of MSF aid workers and refugees themselves.
"Our objective was to use VR to create an empathetic connection between the viewer and a refugee. We wanted visitors to the exhibit to leave fully understanding the trials and challenges of life as a migrant, displaced from their homes and the unique requirements of the lives of people on the move."

Will McMaster, Head of VR at Visualise
Husband and wife, Pedro and Diana are are living in a small half way house for migrants near the Guatemalan border in Mexico
As part of the more in-depth tour, attendees are given the opportunity to watch a 360° VR documentary divided into three chapters of 10 minutes each which focus on the personal journeys of three separate migrants from Tanzania, Iraq and Mexico respectively.  These more intimate and detailed stories are viewed on virtual reality headsets, via a custom VR app built by Visualise, to create a more immersive, engaging and empathy building experience.
"People fleeing for their lives are often reduced to numbers and statistics. But through Visualise's work and their immersive 360 video content, we will put a human face on those staggering numbers, giving the public a real sense of what it looks like, feels like, and what it means, to be forced from home."

Michael Goldfarb, MSF-USA's director of communications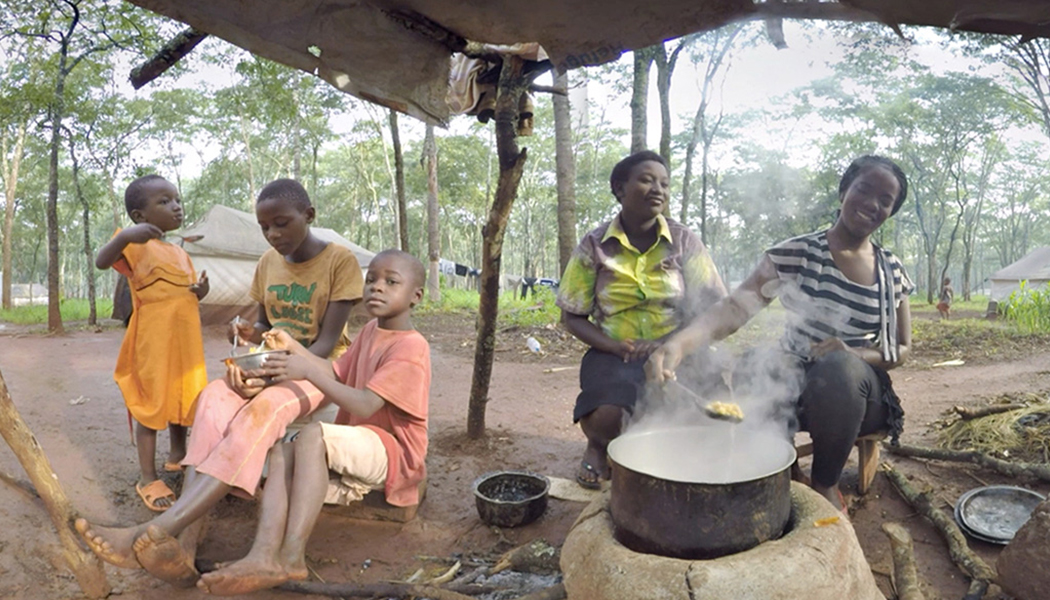 Burundi refugees at Nduta, a remote camp in neighbouring Tanzania 
Due to the complexity of the six different country locations, and multiple camps within each, the Visualise production team was scaled down to a Director/Camera Operator and 360° Sound Recordist with a MSF Field Producer. An agile camera system was used to film the documentaries and an ambisonic microphones to record directional sound that moves as the viewer looks around. The result is a series of interviews and matching scenes that offer a glimpse into the daily struggles faced everyday by those living in refugee camps and displacement settings around the world.
Forced From Home is due to travel from New York to Washington D.C., Boston, Pittsburgh, and Philadelphia this Autumn. Additional dates and and locations for the 2016/17 Forced From Home tour will be released soon. Information and exhibition dates for Forced From Home are available via the official site or by following @ForcedFromHome on Twitter or Instagram.